I was at the National Gallery of Art last weekend, strolling amongst the paintings before getting off to another engagement that evening. It was relaxing, to say the least. There is something about art that is calming—at least (I think) good art. Even the most provocative of scenes, if portrayed well by their depicters, seem to induce an effect of tranquility of mind. For example, Monet's delicate flowers offer a similar consolation as El Greco's rendition of La Agonía en el Jardín.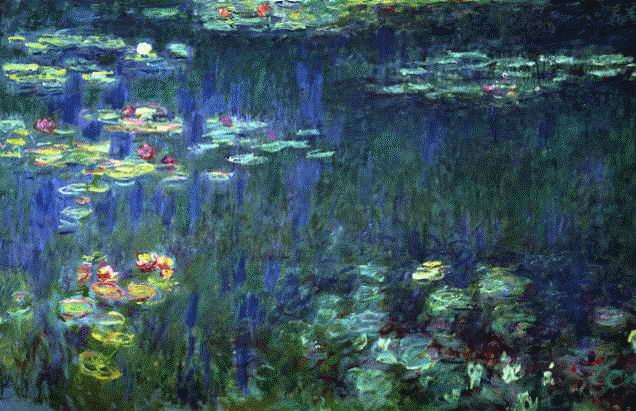 Any discussion of art is bound (although I think unfortunately) to fall into some sort of cliché. So much has been written and said about art and its relation to man's journey through life that it's difficult to say something new—at least something categorically new. One can only, to use a related metaphor, paint with wide brush strokes for so long before everything that can be said has already been put forward. For that matter, analyzing art on the grand scale is itself an art not easily practiced.

But real progress can happen more easily, I think, when we look at art on the micro-scale; i.e. as individual paintings, schools, etc. (Even speaking of 'modern art' versus 'classical art' versus 'oriental art' is a bit too broad for drawing clear distinctions.) In the end, it's the artist himself who paints the picture, not the milieu in which he lives. It is the artist himself that conveys meaning, even if it is a meaning engendered by the culture he is raised in. To find consolation in art means to find consolation in the expressions of the singular artist, not in art as a whole.

I was thinking of all this as I was at the gallery last weekend, and in reflection it seems to make sense. I had to laugh as I watched the freelance art aficionados perusing the rooms, examining closely the paintings, and then retiring to the benches to chat with one another (in fancy parlance) about such and such an artist and such and such a contribution. I wondered where the authentic solace was in this sort of endeavor—whether or not they found it in the art they looked at or in the words they were able freely to associate with it. I guess I've always been a skeptic about people who like to talk so much about fine things that they themselves eclipse beauty with wordiness and esotericism. What of just seeing and acknowledging? Isn't this a more authentic understanding of what it means that something is 'beautiful' or 'lovely'?

Perhaps I'm guilty of just the sort of thing I'm trying to explain. Maybe it would be better just to look at a nice picture and realize how beautiful it is, in se—in virtue of its created nature and the reflection it affords of the Artist.


This entry was posted on 12.19.2008 at 3:47 PM and is filed under Art, Philosophy. You can follow any responses to this entry through the RSS 2.0. You can leave a response.