In a quasi-recent item of Vatican affairs, Pope Benedict XVI has decided to re-word a prayer for Good Friday in the 1962 Missal concerning the conversion of the Jews. For those who may not be aware, the pope's permission to celebrate the 'extraordinary form' of the Mass thus includes the republication of the Missal of 1962, wherein the prayers of that Mass can be found. One of the prayers—the one voicing a petition of hope for the conversion of the Jews to the truth of Christianity—was the subject of much scrutiny, both by Catholics and non-Christians, particularly Jewish authorities. The motivation on the part of the Catholic Church to pray for this conversion seems to many audacious, and to some simply scandalous. Certainly, the freedom to believe what one chooses to believe needs to be respected. However, I would ask, isn't fighting against such a prayer just silly?

First things first: the Holy Father has deemed it prudent to re-word part of the phrasing—as I mentioned above; the word referring to the "blindness" of the Jews has been omitted, however the rest of the prayer has been left largely intact. This less-than-total revamping of the prayer has caused some religious activists and Jewish leaders to criticize the pope even more heavily than before. They view the decision as casting "a harsh shadow over the spirit of mutual respect and collaboration" between Catholics and Jews. In reality, however, perhaps the question we should be asking is, "What does mutual respect mean if total respect for one another's belief is not also fostered?" In other words, don't we need to just simply realize that Catholicism is not Judaism, and that the two really are quite irreconcilable?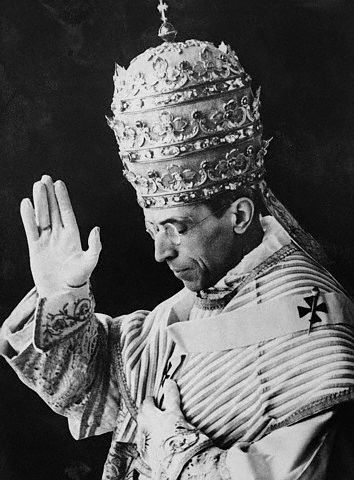 All this is not to say that we cannot live together in peace; I think that Pope Pius XII's disposition toward the Jews during the Nazi years is a great testament to what it means to peacefully and mutually coexist, even without a total surrender of one's own beliefs; his support and sheltering of Jewish Italians during the German occupation of the 1940's was commendable, and is prompting many to pursue his cause for canonization. Oddly enough, the change in prayers is meant to reflect the post-Vatican II increase in mutuality between the two religions, but unfortunately this pre-conciliar relationship is so easily and quickly overlooked. To me, this seems a better example of what religious tolerance and respect entail: risking one's life to save brothers and sisters, even if they do not share our same beliefs.

This is all really just an archetype for the bigger state of world affairs. The relationship between Catholics and Jews is a speck on the map, but this same misunderstood mentality of 'religious tolerance' seems to be encroaching ever more boldly into mainstream cultural life. Particularly of interest in Europe is the growing influx of Islamic peoples into formerly and originally Christian countries. If our mentality of inter-religious respect is a concession to another's belief for fear of violating some superficial principle of non-disagreement, then the future of Europe as the home of Christianity is grim indeed. However, if true religious tolerance and respect stems from a desire to see the truth, and to help others see that same truth—which must always, as Christians, be rooted in Christ, who is both Truth and Peace—then we need to seriously re-evaluate our approach to dialogue and 'collaboration.' If no objective truth is put forth, dialogue between religions is fundamentally incapacitated from ever reaching any level beyond mere bickering. Prayer from the 1962 Missal: case and point.
This entry was posted on 2.14.2008 at 3:09 AM and is filed under Church Doctrine, The Holy Father. You can follow any responses to this entry through the RSS 2.0. You can leave a response.